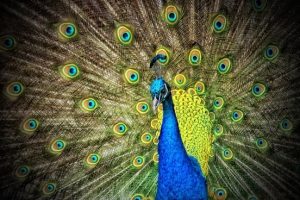 I am a Holistic Psychologist, Energy Healer and Interfaith Minister and I offer services within the expertise of each profession as well as those areas in which they intersect.
Peacock is a symbol of intuition
Services
Workshops: I contribute to the highest development of our planet by offering life-transforming events, often involving nature and creative arts, to help participants experience their own Inner Spark and how it connects with Spirit/The Universe. I assist participants in realizing their full potential for meaning and joy by viewing life as a spiritual journey and exploring their passions and this Inner Spark in order to discover the next steps on their Path. I empower people to experience challenges on their Path as opportunities that often lead to huge leaps forward on this sacred Journey.
Retreats: I offer retreats in which participants dive deep into their Inner Wisdom and connect that Inner Wisdom with the Spirit of the Universe through Nature, creative arts, and (sometimes) exploration of aspects of various spiritual traditions. Retreats help participants know and trust their Inner Guidance, discover (or re-discover) their core spirituality, learn a variety of ways to pray and/or receive direct Spiritual Guidance, heal their spiritual wounds, manifest their dreams, and experience the joy of living life as a Sacred Journey.
Weddings: Together with both of the intendeds, I co-create and design a beautiful, individualized, and moving ceremony. The ceremony celebrates the nature of the particular couple's love and commitment to one another and it can be secular or weave together aspects of each partner's/family's spirituality or religion in a very personal manner. If children are involved, we can employ wonderful ways to include the couple's commitment to those children as well.
Memorial Services: I will meet with the family to become acquainted with them and their lost Loved One in order to help them decide how they want to honor the life of this special person. We will work together to choose a format, music, poetry, photos, readings and/or other tributes in order to celebrate the Loved One's life and mark their passing into the next phase of their Journey.
Ceremonies Marking Special Events: Our lives are full of special days and other events that deserve to be honored. I will work with you to design and officiate your special celebration, whether it is a healing circle, a pregnancy to be honored and supported, a divorce, new home, new office, new career, baby's birth/naming, a croning ceremony (honoring a woman's entering into the Age of Wisdom) or any other important event. We will explore what the event signifies to the persons involved and plan a meaningful event to honor in a deep and personal manner the important aspects of that time/event. Celebrations can be spiritual or secular, serious or playful, or any combination . . . it's always your event!
As an example, see the photos and an agenda for a Mother Blessing and the agenda for an event to support a woman's desire to become pregnant (see Fertility Ritual).
Teresa A. Glatthorn, Psy.D.
Holistic Psychologist, Interfaith Minister and Clinical Supervisor
The Art of Communicating
1111 Street Road, Suite 101
Southampton, PA 18966
Phone: 215-672-6627
FAX: 866-308-2498
E-mail:    TGlatthorn@gmail.com
Blog: https://divineconnections.wordpress.com/
The office is near: Warminster, Newtown, Huntingdon Valley, Ivyland, Hatboro, Richboro, Doylestown, Willow Grove (See Contact Info and Directions page.)